Nurture with nutrients
Regular price
Sale price
$39.00
Unit price
per
Sale
Backorder
Gentle to the skin and the environment, a set containing 20mL each of The Cleanser, The Lotion, and The Moisturizer.
After luxuriously cleansing the skin and allowing moisture and nutrient-rich ingredients to penetrate deep into the stratum corneum at high speed, a veil is formed to bring out softness and smoothness.
Continuous usage activates your best skin condition.
Share
Usage

The Cleanser
Take an appropriate amount in the palm, gently massage and emulsify with makeup, and rinse with water or lukewarm water.

The rich and elastic texture does not cause friction on the skin, quickly absorbs makeup and sebum, and leaves the skin hydrated and smooth. Can be used with wet or dry hands, no need to follow with face wash.

The Lotion
After face wash, take a large coin-sized amount in the palm and gently apply it to the face. Apply as much as the skin desires for a clearer complexion and more persistent moisturizing effect. Follow with Aetās The Moisturizer for an even more hydrating effect.

The Moisturizer
Take 2-3 pearl size in the palm and spread it evenly over the face. Even with a rich texture, this moisturizer quickly penetrates into the stratum corneum as if melting away. Seal the moisture and nutrient-rich ingredients given by Aetās The Lotion with Aetās The Moisturizer to bring out skin's softness and smoothnes
Features

The Cleanser
① Natural Origin Index: 93.30% (not including water) calculated based on ISO 16128
② Uses only plant-derived oil extracted with a cold pressed method that is less likely to oxidize
③ Thoroughly removes impurities from pores
④ Amino acid derivatives*1 generously formulated. Highly water-retentive and cushioning, it reduces friction and leaves the skin hydrated after washing
⑤ Conditions the skin so that the next step Aetās The Lotion can be absorbed easily

The Lotion
① Natural Origin Index: 98.77% (including water) calculated based on ISO 16128
② With a fresh yet rich texture, this lotion sufficiently moisturizes with just one application, and quickly penetrates to the corners of the stratum corneum with multiple applications
③ Generous formulation of multi-layer Beauty Core Rocket (BCR)™️ that is smaller than the pores
④ Double formulation of oil-based amino acid derivatives and water-based amino acids for a non-sticky, smooth finish
⑤ Ceramide NG, ceramide NP, and ceramide AP (moisturizer) are contained in the capsules. It blends well into the stratum corneum and approaches the disordered structure, prevents moisture from evaporating

The Moisturizer
① Natural Origin Index: 98.72% (including water) calculated based on ISO16128
② Generous formulation of rapid penetration Beauty Core Rocket (BCR)™️ that are smaller than pores
③ No petroleum-based surfactants are used. Vitamin Gel Emulsification method emulsifies with only VCE derivatives*2. As soon as it is applied to the skin, it forms a veil effectively blocking fine particles in the air such as pollen and dust

1 Phytosteryl/Octyldodecyl Lauroyl Glutamate (emollient)
2 Potassium Ascorbyl Tocopheryl Phosphate (antioxidant)
Ingredients

The Cleanser
Caprylic/Capric Triglyceride, Polyglyceryl-2 Tetraisostearate, Squalane, Macadamia Ternifolia Seed Oil, Polyglyceryl-10 Dioleate, Phytosteryl/Octyldodecyl Lauroyl Glutamate, Sorbeth-30 Tetraisostearate, Octyldodecanol, Argania Spinosa Kernel Oil, Tocopherol, Phenoxyethanol

The Lotion
Water, Butylene Glycol, Glycerin, Pentylene Glycol, Potassium Ascorbyl Tocopheryl Phosphate, Ceramide NG, Ceramide NP, Ceramide AP, Phytosphingosine, Phytosteryl/Octyldodecyl Lauroyl Glutamate, Betaine, Hydrogenated Lecithin, Cholesterol, Tocopherol, Behenyl Alcohol, Polyglyceryl-10 Pentastearate, Sodium Isostearoyl Lactylate, PEG/PPG/Polybutylene Glycol-8/5/3 Glycerin, Acrylates/C10-30 Alkyl Acrylate Crosspolymer, Phenoxyethanol, Potassium Hydroxide

The Moisturizer
Water, Glycerin, Butylene Glycol, Squalane, Pentylene Glycol, Potassium Ascorbyl Tocopheryl Phosphate, Dipotassium Glycyrrhizate, Ceramide NG, Ceramide NP, Ceramide AP, Phytosphingosine, Phytosteryl/Octyldodecyl Lauroyl Glutamate, Hydrogenated Lecithin, Cholesterol, Tocopherol, Behenyl Alcohol, Polyglyceryl-10 Pentastearate, Sodium Isostearoyl Lactylate, Carbomer, Xanthan Gum, Phenoxyethanol, Potassium Hydroxide, Dipropylene Glycol
Recycle

Bottle: Recycled PET
Cap: PP
Inner plug: PE
Box: Cardboard
View full details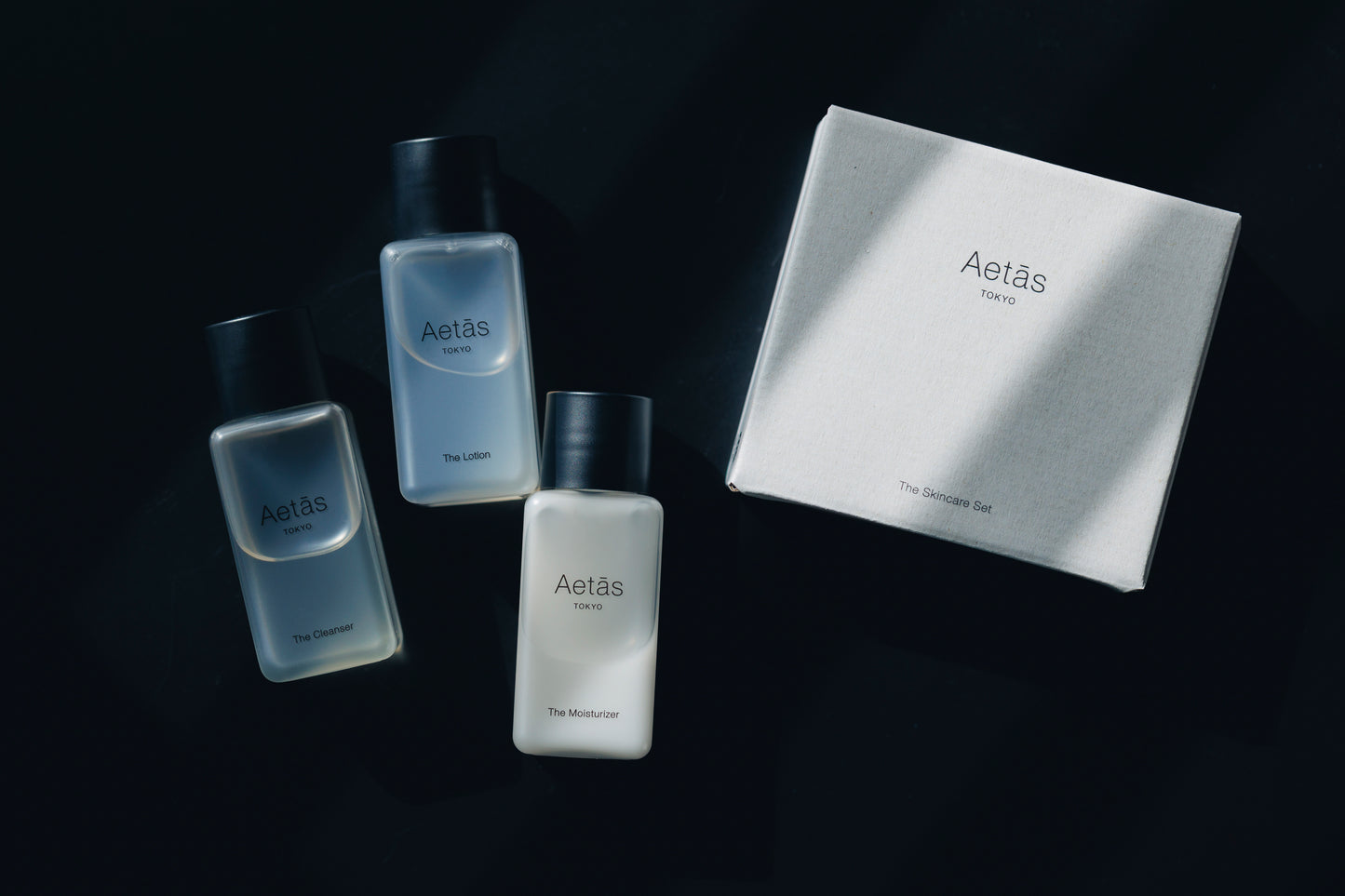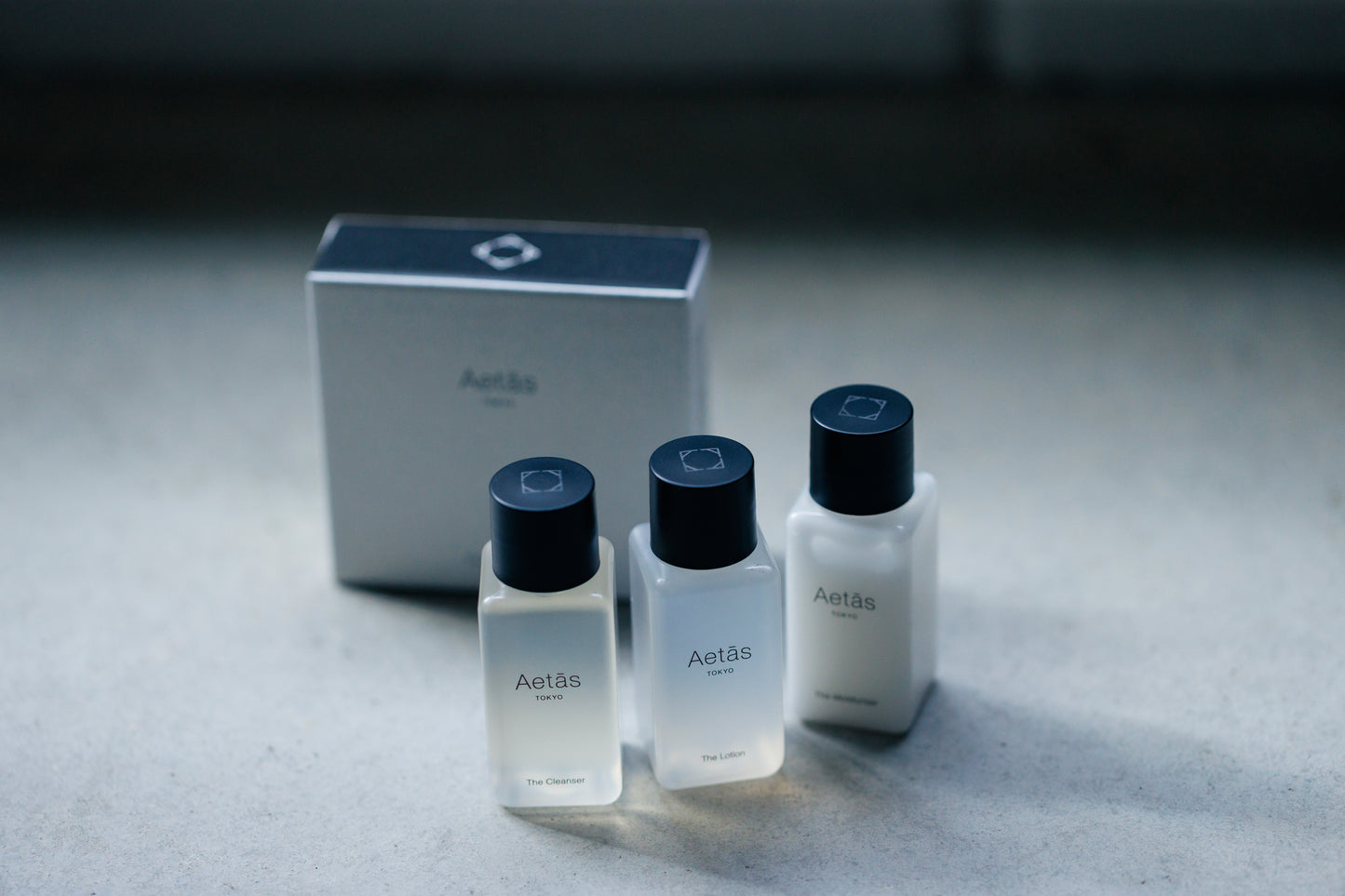 旅行時最好的朋友
我常常出差 覺的帶上這組實在太方便了 希望老闆可以時不時有優惠 讓我可以囤一下旅行組
會是一件很美好的事